Durango, Colorado.
Nestled in the Rocky Mountains with an elevation of 6500 feet.
The Air smells So Clean and the Water Tastes so Good.
The Animas River cuts through the center of town.
Durango truly Glows for the Holidays.
HGTV voted Durango one of the Top Ten Christmas Towns in the U.S.
Even the local Supermarket is jolly and bright.
The Old Gaslight Theatre shows First Run Movies…
Check out the Theatre Seating…Carmel Leather Recliners with Cup Holders…Wow!
The many varied Art Galleries showcase amazing Works.
Sorrel Sky Gallery is a favorite.
A bronze lion with her steadfast gaze greets you at the entrance.
This serigraph, Deep Into The Desert State I, by Nilly Schenck was awe-inspiring.
Deer and Bears live in town too.
The bears were hibernating, but a doe and her babies greeted us each morning for breakfast.
Durango has the Polar Express Christmas Train at the Durango & Silverton Narrow Gauge Railroad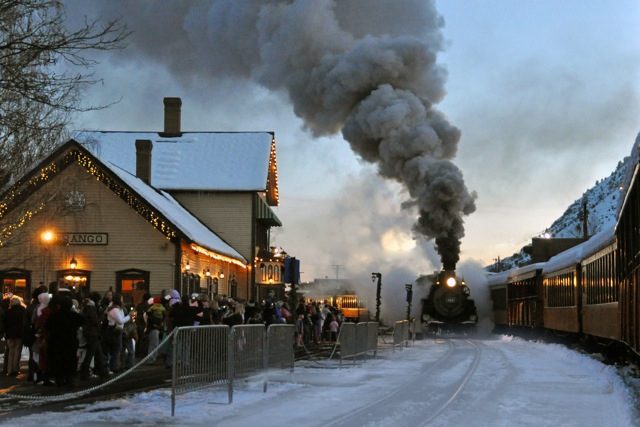 The Strater Hotel has welcomed visitors to Durango since 1887 –
Gracious Victorian Elegance in a Rustic Cowboy Town.
Please wipe your boots at the door.
At the top of Main Avenue is Buckley Park and the 120′ Christmas Tree.
To herald the Season, Santa and Mrs. Claus, riding atop a stagecoach, lead the Parade to the Tree.
Everyone gathers 'round the Tree.  All stand quiet.  Waiting.
Then a Gasp…
The Tree Lights up the Cold Dark Night.
Durango, Colorado…Christmas Magic abounds.
And you know there isn't anything better than Christmas Magic.