I Love to Travel.
And I Have Found that Traveling with A Carry-On Works.
No Matter What the Purpose for the Trip, Say YES to a Carry-On.
But Careful Planning is Required to Carry Along All that You Need.
Here are 8 Tricks to Travel By Carry-On and Still Manage to Have All Your Stuff…
 Bring Only White and Black Tops.  Clean, Simple, Put Together.  Easy to Dress Up.
2.  Stick with Jeans.  Slip Them On and Go.  Easy.  Versatile.  Of Course a Work Trip will require a professional something – a Dress is a good choice – slips into a tiny space in the bag.  Yes, in Black.
3.  Silly Socks.  Add a Wow to Everything.  And Take up No Room.  Underwear slips into a tiny space in the bag.  Bras…black and white or nude. Colors and patterns should stay home.
4.  Sweater.  One and Make it Cashmere.  No bulk but warm.  Warm but not suffocating.
5.  Pajamas?…mmm…no.  Instead throw in thin cotton pants and a tank top.  Or thermals or Leggings with a Tank.  Dual Purpose for layering and sleeping.
6.  Shoes.   Because of airport security I travel in simple flats that slip easily off and on.  For Winter Travel to Frigid Cities Do Boots…Short Boots, of course.  Throw in a Down Vest.  Roll it into a tight space in the bag.  Excellent for layering on the warmth.
7.  Try a Smart, Classy Backpack rather than a Handbag.  Perfect for Travel Papers and a Phone.  I found this Backpack from Overland Sheepskin Company…I'll let you know how it performs!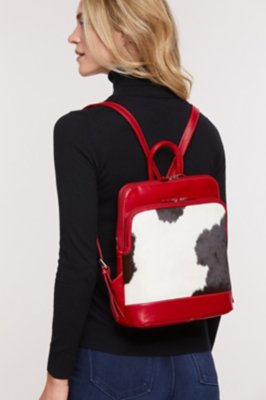 8.  Wear  Simple Jewelry.  Never Pack.  Never Take Off.
Breeze through the Airport with All Your Stuff.  Simple.  Free.  Fast.
The $25 Baggage Fee You Didn't Have to Pay will Be for Fun Souvenirs for those left at Home.
Hello Canada in February…Canada in February???
Yes.  A Whirlwind 2 Days…I know…Nutty…But Definitely Magical!