We've had a long haul.  Sickness.  Sadness.  Being Scared.
And Staying Close to Home and Hospital.
But Now We're On the Upswing and Time for a Break.  Spring Break.
Time to Get Out of Here.  We Need Happy and Plenty of It.
Yes, Many Would Poo Poo the Destination Choice…But We're Going to Disneyland(!)
And We Couldn't Be More Excited.
A Long Weekend.  3-Days.
Disney will be Packed but Hey, We're Not Pushing Strollers Anymore.
My First Idea to Travel was to Take the Train.  Amtrak.

Is Train Travel in Your Future?
I Imagined Sitting Together Seeing the Vistas Change from High Desert to Red Rocks to LA and the Ocean.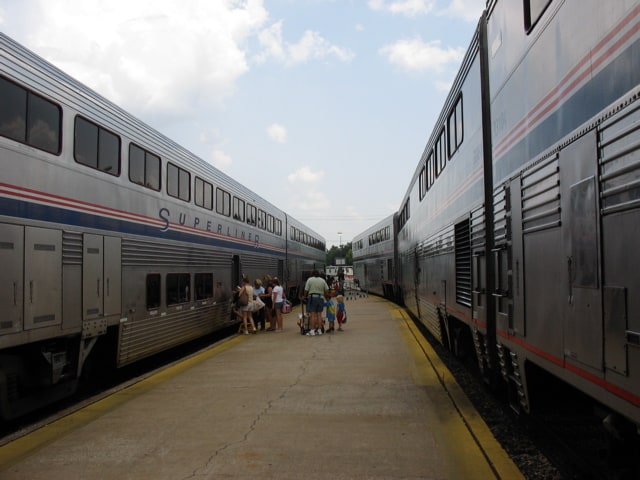 I tried On-Line with Amtrak to Plan the Trip.  I was directed to Submit a Form to Get an Amtrak Quote.
A Sweet Lady Called Me Back.  She Tried to Answer All the Questions.
She had to do Research and would email me a Quote the following Day.
And the Amtrak Package…
Train Travel to LA is at Night.  14 Hours from Albuquerque to LA.  No Magical Vistas to View.
Hmmm.
And the Package Price for a Family of 4 to Disneyland?
Train.  Hotel.  2 Days at Disney.
Almost $2,000 per Day.
Sorry.  Forget It.
Then I Saw the Long Faces.
So We Regrouped.
Are You a Costco Member?  We Are.  We Shop Costco Every Saturday.
For Almost Everything.
Costco has Travel.  I Knew That.  But Never Tried Costco Travel.
So We Took Costco Travel Out for a Spin.
Literally.
A Rainy, Dreary Saturday Afternoon.  Driving to the Movies.
A 15 Minute Trip.
We Called Costco Travel.  From the Car.
The Costco Lady had 15 Minutes to Pull a Disneyland Adventure Out of Her Hat.
And Wow…She Delivered.
Fast.  Efficient.  Knowledgeable.  Cost-Effective. 
Done!
With Time to Get Popcorn and Drinks and See the Previews.
And What Did We Get?
Air Travel.  2 Hours Door to Door.  Non-Stop.
In the Park for Breakfast.
Hotel.  Across from the Park.  Not a Disney Property but Close Enough.
Free Character Meal.  (A $400 value)
Goofy's Kitchen at Disneyland Hotel is the Hands Down Winner for Us.
Park Hopper Passes for 3-Days.
Move Seamlessly from Magic Kingdom to California Adventure.
Early Morning Entry to the Parks.   A Great Way to Get Ahead of the Crowds.
And the Price?
Family of 4.  3-Days.  $800 per day.
The End.
The Beginning. 🙂
This is Not a Sponsored Post.
Costco Travel Really was Wonderful.  And I Wanted to Share All the Wonder with You.