Fashion Experts Say…Dress in the Colors You Love.  These Colors Will Be Perfect for You.
For Me, It's the Colors of the Sea.
Aquamarine Sets My Heart Fluttering.
I Was Sold When I Discovered the Aquamarines of the Turks and Caicos.
Maddening Never-Ending Blues.
After Our Trip to the Turks, I Have Been a Confirmed Loyal Aquamarine Lover.
So When I Watched Prince Harry and Meghan Leave for their Wedding Night Party, I Caught Sight of the Aquamarine Sparkler Meghan was Wearing and I Gasped…
Yes.  There.
Here's the First Time the World Saw this Dazzling Aquamarine Ring.
Lady Diana.
The Lady Diana Ring became a Wedding Gift to Meghan from Her Prince.
The Ring is Valued at $20,000.00.  Hmmm.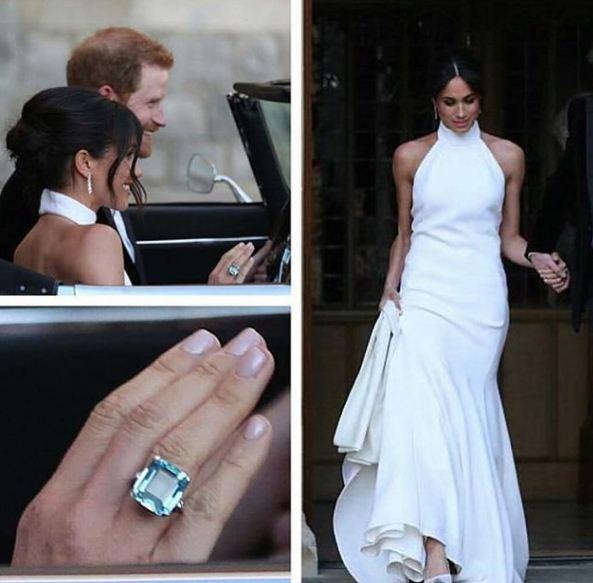 In a Word, Breathtaking.  I Was in Love.
My Interest was Peaked When, After the Wedding, I Began Seeing Facebook Posts Featuring The Ring.
By Kaylee Jackson.  Big.  Bold.  Sparkly.  Blue.  Aquamarine.
A Replica of the $20,000 Ring for a Silly $64.95.  Hmm.
Sorry.  I Couldn't Resist.
This is Not a Sponsored Post.  I Just Thought You'd Like to Know.
After a Wait of 2 Months.  The Ring Arrived.
Shipped Direct from China.  Popped on My Finger.
Set in Silver.  A Lovely, Simple Setting.  A Lab-Created Aquamarine Gemstone.
But How Will the Ring Perform on a Working Princess?
Ahh, that's the Test.
Who Wouldn't Love a Ring that Matches the Kitchen Cabinetry?
Or a Perfect Match for the Cat Food Dishes?
Believe It Or Not…The Ring Is Very Easy to Wear.  So Lightweight.  I Almost Forget It's On.
Laundry? No Problem.  Fun with a Bit of Added Zing.
  I Chuckle Each Time I Catch the Sparkle.
Computer Mouse and Royal Ring.  A Delightful Pairing.
Perhaps Meghan isn't Scrubbing Toilets in Her Aquamarine.  But I Dare Say She Could.
And In Case You Were Wondering…Windex is Perfect for Cleaning Rings (No Filmy Residue like Soap) and Windex Has Just the Right Amount of Slippage to Take a Ring Off on Steamy Days.
Simply Fabulous.
So What Color Sets Your Heart Fluttering???
This is a Good Kind of Heart Fluttering.
Kaylee Jackson Has Every Color Covered…
And All Quite Magical.
Just Thought You Might Want to Know.  🙂