Albuquerque, New Mexico has a Castle on the fringes of downtown. It's not old. Not even close. Built in 2011 by a fascinating woman, Gertrude Zachary; an inspirational antiques and turquoise jewelry dealer. Gertrude was inspired by the grand estates of Paris. She created the Castle as her Home and to showcase her extensive collection of stained glass, priceless antiques, chandeliers, turquoise and religious art. But it truly was Gertrude's Home. Towering 50 foot tall towers and surrounded by iron fences, it was a fortress that everyone wanted to visit, but only a special few got to see.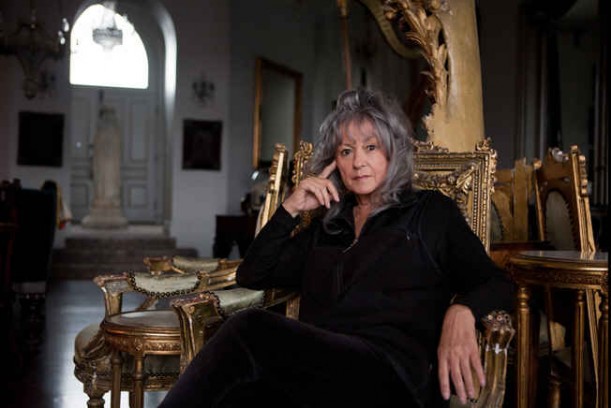 And then in 2013, Gertrude died. Her Castle has remained stoically silent.
Until Today.
The Turquoise Museum has taken up residence in the Castle. For the cost of admission, the Public is invited to Step Inside and be Castle-fied.
I am so, so excited. Finally, I can Visit the Castle.
It's Opening Day!
Mr. Doodle and I have a Date. Our Girls are at Ballet. And I have a Ticket for You too. Let's Go!
We enter along the side of the Castle. Heads Gaze at Attention.
Planted Urns add Color to the Stone Grey Facade.
Whispered Elegance of What is Surely Inside.
Follow the Cobblestones to the Heavy Wood Double Front Doors.
Shuttered and Curtained Windows Block the Sun and the Views.
Red Carpet Treatment. The Foyer.
Caste Metal Lions from Mexico flank the Front Door.
The Main Floor. As Grand as a Ballroom.
Impressive Turquoise Pieces on Display Behind Glass.
Sometimes Eerie.
Sometimes Fun.
Many of the Chandeliers Remain throughout the Spaces.
Ornate and wondrous. With Sparkly Light and Shadows.
We Take the Sculptural Grand Stairway to the Second Floor.
Lighted by Stain Glass and Crystal.
A Massive, Beaded Light suspends from the Third Floor.
A Peek through the Curtains reveals Downtown. Just a Few Blocks Away. With "My Building" in towering view.
But as I wind through the rooms, a coldness slowly creeps in.
The furniture of the Home is gone. There are No Designated Spaces. No Living Rooms. No Bedrooms. No Studies.
What Happened to the Kitchen?
Each space is stripped bare. Only the adorned Castle walls remain
The Castle as a Home has Vanished.
Replaced with turquoise pieces in showcases.
We whisk through and leave quickly.
For Me, the Sadness Inside the Walls is Deafening.
But then I wonder. Is it the furnishings that Make a Home?
Or is it the Inhabitants that Bring in the Warmth and Light?
Should a Space transformed into a Museum have Light and Warmth and Excitement?
I Would Like to Think So.
Perhaps the Light in the Castle has Yet to Find its Way Inside.
A Museum. A Castle. A Home. All Need to Embrace the Magic. Agreed?