This sad story (with a Sure-to-be Happy Ending) begins with plumbing leaks in the bathroom. A steady, drip, drip, drip of water, that over time, got under the floor and behind the wall tiles. The water then eased into the subflooring, lifting the hardwood floors into wavy lumps, and single-handedly creating the Perfect Storm for BLACK MOLD.
But No One Knew a Thing.
The silent drips continued a monstrous path onward and outward. The floor buckles got taller and taller. The water stealthily moved into an adjoining bedroom. Something had to be done.
We tried to Fix the Plumbing Leak.
But this has quickly become a job for the experts.
What I have learned to date…My 5 Tips for a Fun Bathroom Remodel…
Tip #1: Know when a job is too big to handle. Hire a reputable clean up/restoration company. They will assess the damage, remove the MOLD and come up with a plan to make it all right.
Here's the Scary Black Mold. Hidden under the hardwood and tile.
To begin the Clean Up – Protect the floors outside of the clean up area. I don't recommend a cat helper. But that's another story.
Zipper-Sealed and ready for dehumidifiers and cleaning. The fans are deafening, but necessary for drying and cleaning.
Pathways are covered – From construction site to the back door. Kind of like a Red Carpet, only in Cardboard Brown with Blue Tape Accents.
Tip #2: Clear, Clean, Combine. BEFORE Construction, unclutter the spaces, move out the furniture, Clean and Combine.
The Moldy Wet section of wood floor removed down to the concrete slab.
The goal is to make the house as livable as possible. Our new/temporary living room/bedroom combo. Lovely. 🙂
We can do this. I hope.
Tip #3: Be Set-in-Stone with Design Ideas before Construction Begins.
Before any restoration crews descend, have your design ideas set. Of course, this is easier said than done. I searched Pinterest and watched countless decorating shows for bathroom design ideas…Thank you HGTV's Christina on the Coast for some great design ideas and tricks on how to put it all together.
The choices are overwhelming…but in a good way.
The look I was going for was Simple with Contrasts. Some of My Choices:
Black Hexagon Floor. White Walls. Black Trim. Natural Wood Ceiling.
Dark mermaid/fish tile floor. White walls. Dark fixtures.
Rustic shiplap walls. Black/white 1930s tile floor.
White on White on White. Basket weave floor.
The restoration and construction teams will happily take out and then put back everything to take the room back to its pre-flood condition. Just as if the flood never happened. But I saw this as a perfect way to begin again. With new ideas in place, you can change it up. Yes!
Our New Theme, without going too crazy, is inspired by MERMAIDS.
With a Theme set, the tile selection is streamlined….this is a good thing, because boy oh boy, the selections go on forever.
Our design choices – Graphic. Dark/Light Contrasts. Greys and White.
With a touch of sea-worthy, beachy Turquoise. Our ceiling is inspired by the HGTV Dream House 2020 Paint Color…Mint to Be, HGTV Home by Sherwin Williams. I've never done color on the ceiling. This is Fun!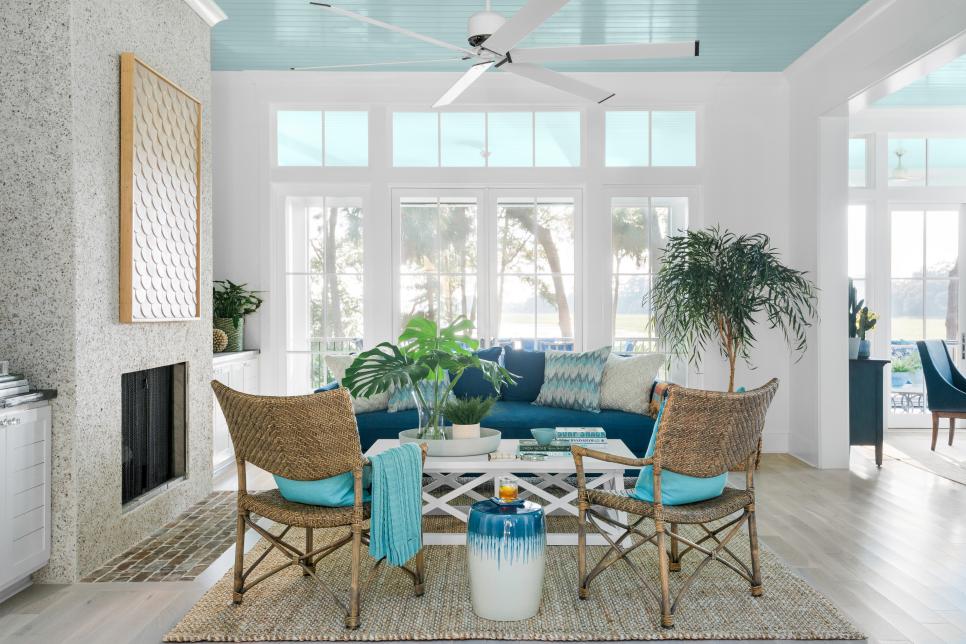 An Accent Wall in Charcoal Mermaid. Shower in White Mermaid.
A whole room in charcoal is dramatic, but for this small space, it will be too dark. As an accent, it could work.
The walk in shower in White Mermaid tile. The White tile will extend from the shower enclosure continuing across one bathroom wall.
The Tiles will cover from Floor to Ceiling.
For the Floor, ceramic tile in Charcoal with White Veining.
Charcoal/white/grey penny tiles for Shower Pan and wrapped over the Step.
Fung Shei design suggests Darkest Color on the Floor, Medium Walls, Lightest on the Ceiling. This design palette fits the ancient model.
Tip #4: Make design decisions for all the fixtures before Construction Begins. Have all Fixtures Ready for installation before the Work Begins.
The Picks: Vanity Sink from Costco. White Quartz top.
Faucet from Costco. Simple lines. In Brushed Nickel.
Paint from the Shed. Shop-the-House/Shed is a win. In "Drizzle".
Tip #5: The best tip that is hardest to achieve…Now Relax, Sit back and let it all happen! Hopefully as quickly as possible.
With a Healthy Dose of Magic.